South County ARES Founder's Page
One of the original founders and former long-time president of the South County Amateur Radio Emergency Service was
Dick Collins, K6ANN (SK)
Dick Collins, K6ANN, moved to Oregon in February, 1999. Dick was one of the founders of SCARES and its president until December 31, 1998. He has given more than 44 years of service to ARES. SCARES would not exist if it weren't for the dedication and hard work of Dick. We will miss him very much. THANK YOU, DICK!
Oregon update:
Dick received so many awards from Bay area and state and national organizations when he left SCARES that it took more than one wall in his new ham shack in their new home to display them all. The Gap antenna that was a gift from SCARES also presented a challenge --- how to attach the guy wires near the top of the antenna. The deed was accomplished nicely with a little help from a friend.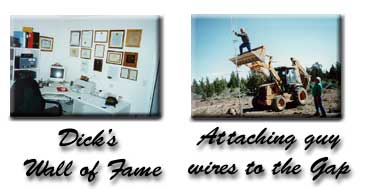 ---
Have you ever wondered why we radio amateurs are called "Hams"? See Legends for the story!